Pan-fried whole fish is one of the best ways to prepare freshly caught fish and it is easier than you think. This tasty fried fish is crisp and golden outside and hot and juicy inside.
Total carbs 9g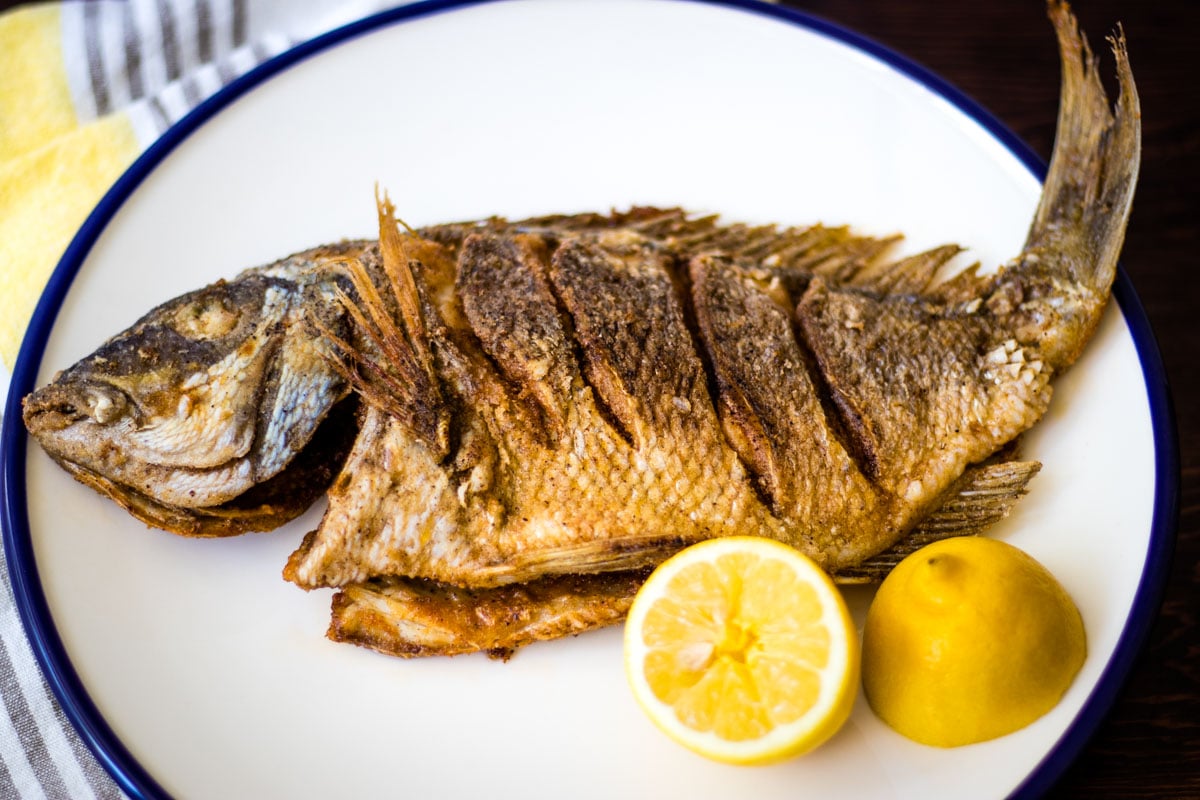 The fish pictured here is porgy, one of my favorites for pan-frying. I ate fresh fish daily while my mother worked at the fish market. In the summer, she would bring home whole porgies and fry them up. This is her recipe.
Ingredients you'll need
whole fish
Smaller white-fleshed fish like snapper, porgy and trout, that can fit into a skillet are good choices for pan-frying whole. Catfish, grouper and bass may be too big for frying whole.
frying oil
Use a neutral flavored oil that can withstand high temperatures such as avocado or canola oil. You can also use lard or bacon grease. I save leftover bacon grease for frying fish. It adds so much smokey bacony goodness to the flavor. Try it for frying fish for tacos.
cornstarch
In my opinion the best way to fry fish is to dredge it in seasoned cornstarch or potato starch. This will give you a crisp, light coating. Skip the eggs and breadcrumbs. Don't bother with batter. Although high in carbs, a small amount of cornstarch is fine on a low-carb diet.
How to select fish 🐟
At the fish market look for:
Eyes 👀 that are crystal clear, plump, moist, bulging, and bright. Don't buy fish if the eyes are sunken or cloudy.
Gills that are clean and bright pink or red. Gills should not be slimy or dark and bloody.
Fins should be wet and whole.
Flesh should be wet, slippery and resilient when 👉🏼 poked. No visible ice or blood.
Scent 👃🏼 should be mild, not fishy or bad. Life tip 😉 don't eat food that smells bad to you.
These are all indicators that the fish is fresh. Ask the fish monger to clean it for you by removing the scales and guts and rinsing it with fresh water.
If you need help figuring out which fish are safe and sustainable to eat, seafoodwatch.org is a great resource for navigating seafood choices.
I can't say "porgy" without hearing that line from the song "Summertime" from George Gershwin's Porgy and Bess. "Summertime and the livin' is easy, fish are jumpin'..." Does this happen to you too?
How to fry whole fish
When done safely, frying can be a delicious and quick way to prepare whole fish. Start with fresh fish that had been gutted and scaled. Look for fish with bright, clear eyes and firm flesh that isn't bloody. Use a paper towel to pat fish dry so that oil doesn't splatter. Gently place fish into hot oil so that the oil does not splash back onto your hands, arms, face or into your eyes and burn you. Never drop food into hot oil. Always gently place food into oil with tongs or hands. Turn the handle of the skillet off to the side, away from the edge of the stove, to prevent the skillet from being knocked over.
Equipment you'll need
A large cast iron skillet is perfect for frying fish, but any deep large skillet will work. A long pair of tongs and a fish spatula (an extra long spatula) for handling the fish while frying and a wire rack.
Serving suggestions
Serve with a side of lemon halves for squeezing. Lemon pairs well with seafood. I like mine with a splash of soy sauce and a side of rice. Make it a meal with fresh vegetables.
Frequently asked questions
What is the best fish to fry whole?
Smaller white-fleshed fish like snapper, porgy, perch and trout, that can fit in a skillet are good choices for pan-frying whole.
Do you fry fish in oil or butter?
Fry fish in oil, lard or bacon grease because you need to fry in fat that can withstand high temperatures for frying. Butter is not suitable for frying because the milk solids in butter burn at high temperatures.
Print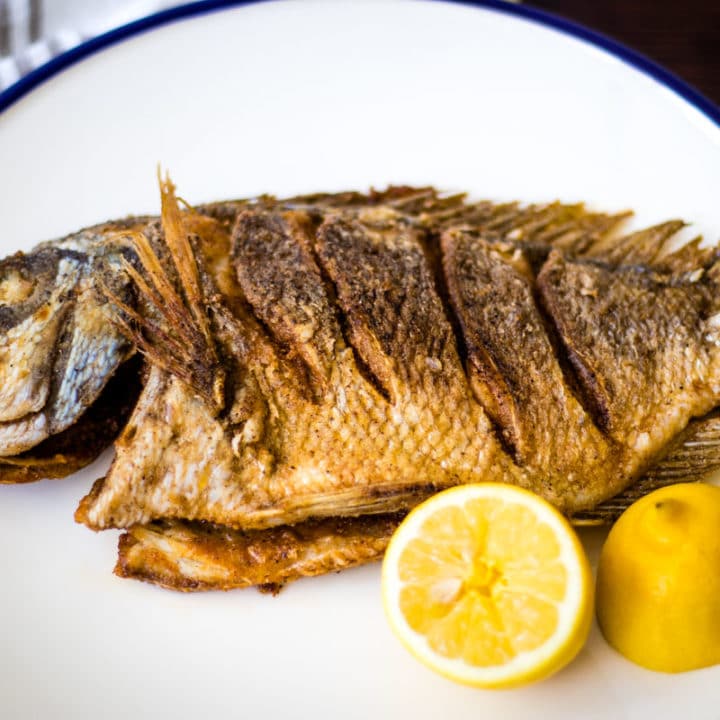 Fried whole fish
---
Author:

Sachi

Total Time:

20 minutes

Yield:

2

whole fish

1

x

Diet:

Diabetic
Description
Pan-fried whole fish is one of the best ways to prepare freshly caught fish and it is easier than you think. This tasty fried fish is crisp and golden outside and hot and juicy inside.
---
2

whole medium-sized fish about

1

pound each, scaled and gutted

¼

cup

cornstarch

1 teaspoon

kosher or sea salt

1 teaspoon

garlic powder

1 teaspoon

paprika (I used smoked paprika)

1 teaspoon

black pepper

1

cup

high heat oil (or more if necessary)

2

lemons, halved
---
Instructions
Rinse fish under cold tap water to wash away blood and loose scales. Pat dry with paper towels, pat the insides dry too. Use a knife to make slits about an inch apart through the flesh from top fin to bottom fin. Cut at a slight slant so that you can make deeper cuts down to the back bone. This helps the flesh cook evenly and creates more area for seasoning.
Combine cornstarch, salt, garlic powder, paprika and pepper. Sprinkle both sides of each fish with seasoned cornstarch to coat the fish completely.
Heat oil in skillet over medium-high heat. Oil is ready when it shimmers. Gently lay each fish down into pan so as not to splash hot oil out of pan.  Do not move fish while they are cooking. After 1 minute, lower heat to medium. Fry for 4 more minutes then, when it is time to turn the fish over use tongs and a spatula to carefully turn the fish over. Fry for 5 minutes on other side.
Remove from skillet with tongs and fish spatula to drain on a wire rack. Avoid paper towels as this can make the crispy fish soggy because the paper towels will trap steam as it cools. 
Serve with lemon halves to squeeze juice over fish.
Notes
Seriously, be careful when frying. Hot oil can be very dangerous. Do not leave the frying pan unattended while the stove is on. Hot oil can boil over and start fires. I know people who have burned down their home and lost lives by walking away from hot oil on the stove because of distractions. If you live with babies, toddlers and rowdy pets, you might want to skip frying for a while.
Prep Time:

10 minutes

Cook Time:

10 minutes

Category:

Dinner

Method:

Fry

Cuisine:

American
Keywords: Fried whole fish low-carb keto dinner