Cook perfect hard boiled eggs in an Instant pot in under 15 minutes. There's nothing to peel because the shells slip right off!
Carbs in eggs - Less than 1 gram per large egg
Hard boiled eggs are perfect for meal prep. You can eat them whenever you need a quick, low-carb, keto snack, appetizer or protein for your meal.
Instant pot eggs cook up beautifully with no need for an ice water bath or keeping track of a 5-5-5 method. The secret is a power combo of steam and pressure, which cooks perfectly boiled eggs that easily release their shells.
It's simple, press a few buttons, set a timer for 12 minutes, and you'll have delicious hard boiled eggs with creamy yellow yolks. No need to watch water boil!
If you're not an Instant pot owner, you can still make perfect boiled eggs with a normal pot.
👩🏻‍🍳 Table of contents
Estimated reading time: 5 minutes
Jump to:
How to make hard boiled eggs in an Instant pot
The easiest and best method for making hard boiled eggs in an Instant pot uses the natural pressure release method. This is NOT the 5-5-5 method. You don't have to set 3 timers or do anything extra.
🥚Ingredients
12 large eggs 🥚🥚🥚🥚🥚🥚
1 cup water
When buying eggs check uncooked eggs for cracks before buying. If you find any raw cracked eggs after you get them home, throw them away.
🍳 Equipment you'll need
Instant pot with steamer rack
Oven mitts or a dishtowel to protect your hands
🔪 Instructions
Cooking hard boiled eggs in an instant pot is simple, all you have to do is:
Set the Instant pot to cook for 1 minute.
Set a timer for 12 minutes.
Let the pressure release naturally, allowing the eggs to cook through.
When the eggs are done cooking, use oven mitts to lift up the pot and shake the eggs in the pot to break the shells. You can first remove the steamer basket with tongs if you like.
Run them under cool running water from the tap to stop the cooking process and make them easier to handle.
Peel. The shells will slide right off!
Rinse to remove bits of shell.
How to peel hard boiled eggs
Instant pot hard boiled eggs are extremely easy to peel, just slip off the shells after breaking them.
Farm fresh eggs vs old eggs
For perfect hard boiled eggs go for quality and use farm fresh eggs that are organic and pasture raised. These will give you eggs with bright colored, creamy yellow yolks. Fresh eggs have the best flavor, are the most nutritious, and last longer in the refrigerator.
It is a myth that old eggs peel better than fresh eggs. Steaming eggs, then rapidly cooling eggs immediately in cold water is what makes them easy to peel.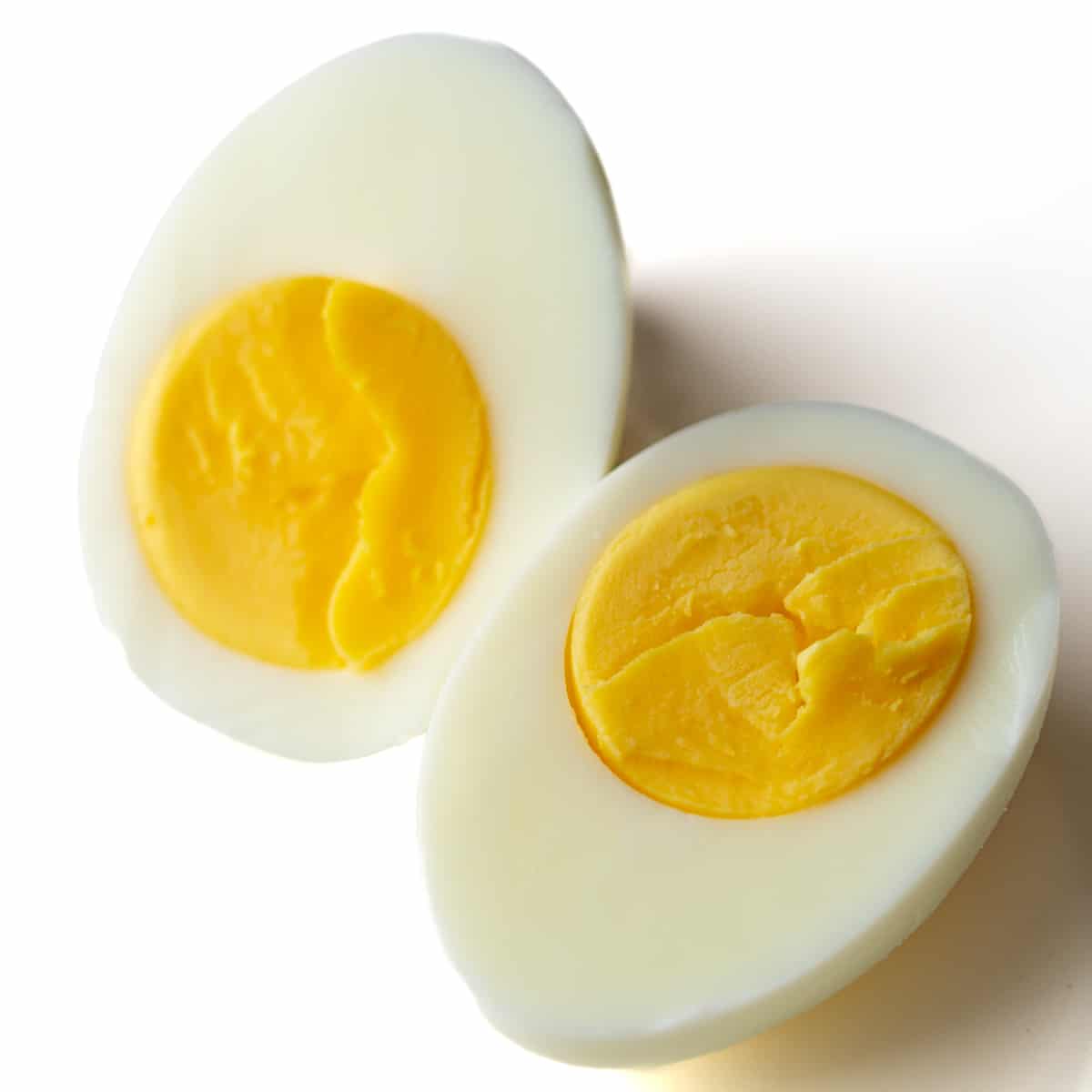 Overcooked hard boiled eggs
If you've ever had a smelly, sulfurous hard boiled egg with a green, chalky yolk, it's probably because it was boiled for too long. A green yolk means that the egg was overcooked. Overcooked hard boiled eggs look and smell like rotten eggs. To avoid this, don't over cook the eggs and don't skip the cold water bath.
A perfectly cooked hard boiled egg has a solid, yellow yolk.
🧂 Seasoning ideas
Salt and pepper
Herb salt
Seaweed salt
Paprika
Chili powder
Japanese 7 spice blend - shichimi togarashi
Mayonnaise
Mustard
Hot sauce
Curry powder
🍽 How to serve
Hard boiled eggs are delicious plain, sprinkled with seasonings, as deviled eggs, sliced over toast, or added to soups, stews and salads.
Meal prep
You can make hard boiled eggs ahead of time for meal prep and use them in all kinds of recipes for meals and snacks throughout the week.
🥡 How to store
Hard boiled eggs keep well in the fridge, so long as you don't crack the shells. Store them unpeeled, in a covered container or plastic bag, in the fridge for up to a week.
Hard boiled eggs should not be consumed if they have been sitting at room temperature for over two hours.
How to freeze
You can freeze unpeeled eggs for up to 3 months.
Do not peel.
Allow eggs to cool completely.
Place in a single layer in a freezer-safe container or freezer bag and freeze.
💭 Top tips
Follow these cooking tips for best results:
Do NOT use the EGG button on the Instant pot. This setting will overcook the eggs.
Stop the cooking process by transferring eggs straight into cold water, so that you don't overcook the eggs. This also helps the shells slide off easily when peeling.
For delicious eggs that taste great, don't overcook them.
Overcooked eggs have an ugly green ring around the yolk.
A smelly egg means that it was overcooked.
This recipe calls for large eggs, but you can use eggs of any size, just adjust the cooking time -/+ a minute. For medium eggs, try 10 minutes. For jumbo eggs, try 15 minutes.
Frequently asked questions
Are boiled eggs good for you?
Yes. Boiled eggs are high in protein, low in carbs and a source of vitamin A, vitamin D, phosphorus, vitamin B2, vitamin B12, iron, zinc, folic acid and vitamin E. Eggs also contain lutein and zeaxanthin, which are two antioxidants that can help protect your eyesight.

How long does it take to boil eggs in an Instant pot?
1 minute with 12-15 minutes of natural pressure release time.
How can you tell if an egg is bad?
Place the egg in a glass of water. Fresh eggs sink. Bad eggs float.
Recipes with hard boiled eggs
Here are a few of my favorite keto and low-carb hard-boiled egg recipes:
deviled eggs
chopped egg salad
scotch eggs
avocado toast with eggs
cobb salad
tuna niçoise salad
Print
Easy Instant pot hard boiled eggs recipe card
---
Author:

Sachi

Total Time:

15 minutes

Yield:

12

eggs

1

x

Diet:

Diabetic
Description
Cook perfect hard boiled eggs in an Instant pot in under 15 minutes. There's nothing to peel because the shells slip right off!
---
12

large eggs

1

cup

water
---
Instructions
Insert a steamer rack into Instant pot and pour in a cup of water.

Place eggs in steamer rack.

Cover and lock Instant pot lid. Set steam release valve to "SEALING".
Press PRESSURE COOK button. Set time for 1 minute. START.
Set a kitchen timer for 12 minutes. When time is up, release pressure.
Use mitts or a dish towel to lift pot and give eggs a shake to break the shells.
Place pot of eggs under the tap and cover with cold water to cool the eggs for handling. 
Peel eggs. The shells will slide right off. 
Rinse eggs in water to remove bits of shell.
Notes
You can remove the steamer basket with tongs after the eggs are cooked. 
Prep Time:

2 minutes

Cook Time:

1 minute + pressure release

Category:

eggs

Method:

Instant pot

Cuisine:

American
Keywords: eggs, instant pot, diabetes, keto, low carb, snack, breakfast, protein, hard boiled eggs, easy, easy peel